Multiculture Library -Trip Around the World - Stop 23:
Reunion of Turkey-China: the Last Caravan on Silk Road
The ancient Silk Road connected China and Turkey and witnessed the lasting friendship between two countries. From 1996 to 1997, a caravan led an expedition to the ancient Silk Road. They departed from the ancient capital Xi'an, went through 10 cities and Anatolia, and finally arrived in Istanbul in Turkey. It took them 18 months to finished the 12000-kilometer journey, capturing many precious moments.
Retracing the Silk Road with wonderful images, let's make a journey to the riverside of Tigris and witness the reunion of Turkey and China.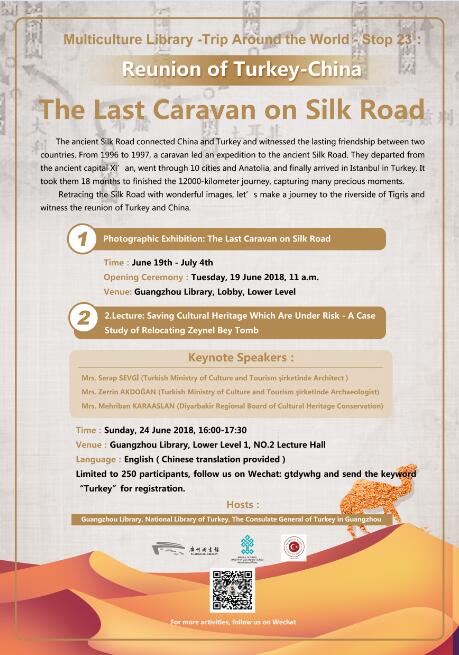 1. Photographic Exhibition: The Last Caravan on Silk Road
Time:June 19th - July 4th
Opening Ceremony:Tuesday, 19 June 2018, 11 a.m.
Venue: Guangzhou Library, Lobby, Lower Level
2. Lecture: Saving Cultural Heritage Which Are Under Risk - A Case Study of Relocating Zeynel Bey Tomb
Keynote Speakers:
l Mrs. Serap SEVGİ (Turkish Ministry of Culture and Tourism şirketinde Architect )
l Mrs. Zerrin AKDOĞAN (Turkish Ministry of Culture and Tourism şirketinde Archaeologist)
l Mrs. Mehriban KARAASLAN (Diyarbakir Regional Board of Cultural Heritage Conservation)
Time:Sunday, 24 June 2018, 16:00-17:30
Venue:Guangzhou Library, Lower Level 1, NO.2 Lecture Hall
Language:English(Chinese translation provided)
Limited to 250 participants, follow us on Wechat: gtdywhg and send the keyword "Turkey"for registration.
Hosts:Guangzhou Library, National Library of Turkey,
The Consulate General of Turkey in Guangzhou

For more activities, follow us on Wechat